Dreaming of that grilled harissa shrimp from your fave Moroccan hole-in-the-wall? You can easily recreate that fiery chili shrimp dish with a harissa substitute, even if you don't have the paste on hand.
A popular condiment used in North African and Middle Eastern cuisine, harissa packs a lot of heat. If you don't have harissa for your grilled shrimps, there are several ingredients you can use as a substitute, and even some you're likely to already have in your cupboard. Some of these include hot sauce, gochujang (Korean red chili paste), or sambal oelek.
These spicy condiments will provide the kick needed in your dish, and allow you to carry on making your dish without any interruption. Take a little bit more care in adding in your harissa substitutes, because even small variations will lead to changes in your recipe. Add half of what's called for and then taste the dish before adding in the rest.
We've listed some of our favorite common substitutes for harissa paste below. You can find these at home, or you can make a quick grocery run for the alternatives if harissa paste isn't available at your local global market.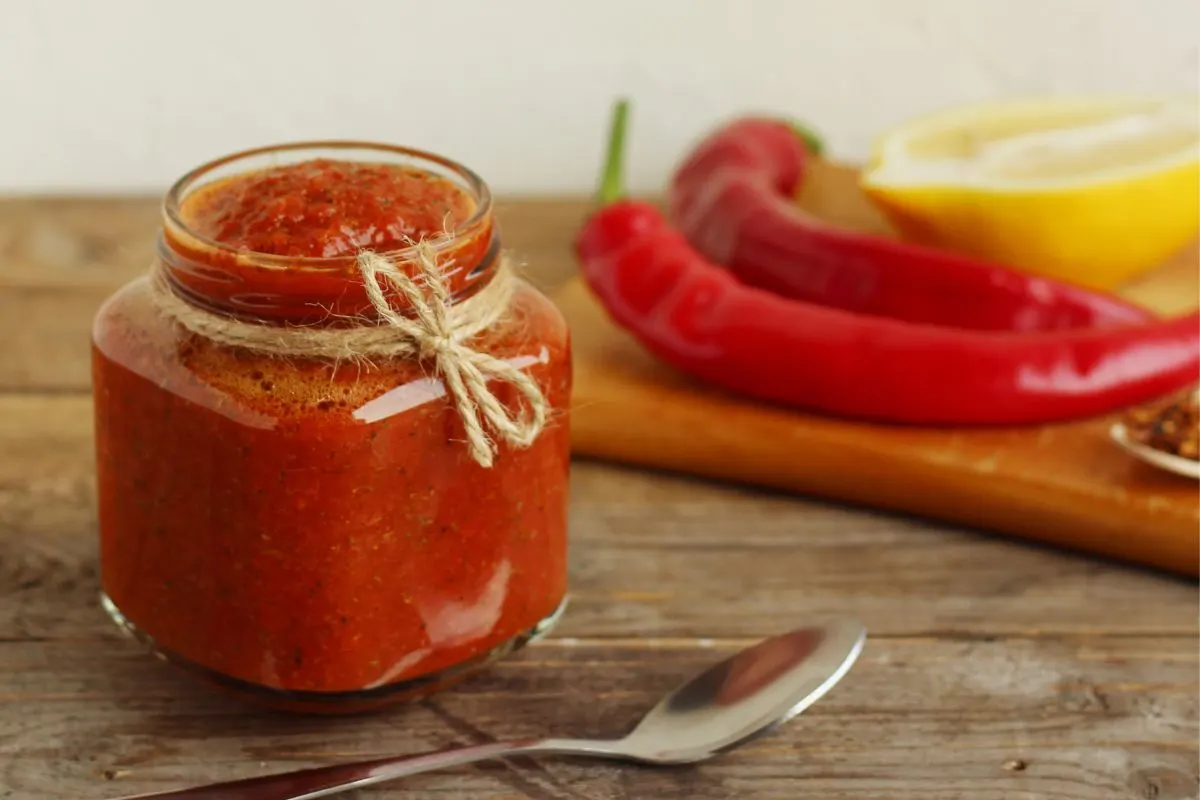 What Makes Up Harissa Sauce?
This flavorful chili paste is from North Africa's Maghreb region, which includes Morocco, Tunisia, and Algeria. It's mostly made up of roasted red peppers, chili peppers, and spices like saffron, garlic, cumin, and coriander seeds, all brought together into a paste by olive oil.
'Harissa' actually refers to the method of making the paste, which requires pounding chiles with olive oil, seasonings, and other spices until they create a smooth paste. The name harissa is derived from the Arabic harasa, which means "to crush or pound." In Tunisia and Morocco, where it is frequently prepared, harissa is an everyday condiment used to flavor soups and stews.
The paste is highly aromatic and has a deeply earthy flavor that is rich and spicy. Depending on the peppers and spices used, the flavors are intensely aromatic with a hint of more sweetness or tang. Use sparingly, because a little goes a long way in recipes.
You will find variation after variation of harissa depending on the local ingredients available and the people who produce them. Although you may buy commercial harissa prepared in jars or tubes in major supermarkets or specialty Middle Eastern groceries, making your own is preferable. The main advantage is that you can control the level of heat and ingredients to use to your personal tastes.
The chili peppers frequently used are roasted red bell peppers, smoked serranos, and baklouti peppers, but feel free to use any roasted peppers of any variety or dried chile peppers (chiles de arbol, ancho peppers, guajillo peppers, and pasilla peppers).
Other ingredients you will need for a homemade harissa paste are tomato paste to enhance texture; traditional spices like caraway, coriander, and cumin seeds; and fresh garlic, lemon juice, and extra virgin olive oil. You can even use sun-dried tomatoes in olive oil in lieu of tomato paste or skip both altogether. Experiment with additional herbs and spices that you like such as mint, basil, and chili powders if you like your flavors more earthy and spicy.
To make it spreadable, the mixture is traditionally blended with olive oil which aids in building flavor. It is commonly used as a pre-cooking rub for meat or vegetables, though you can also add it at the end of your dish as a finishing paste, similar to sweet chili sauce.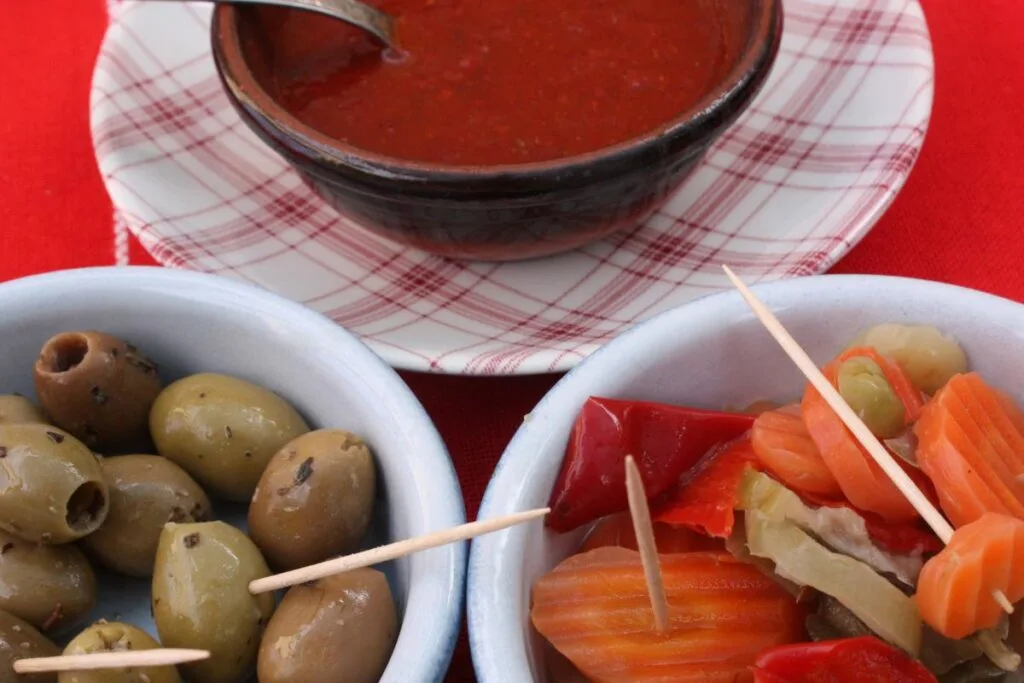 How to Use Harissa Sauce
Harissa is a fantastic ingredient to include in your dishes because it comes with several perks for your health. It's a good source of iron, copper, and the vitamins E, C, B6, and K, and contains a lot of antioxidants in addition to boosting metabolism.
This chili paste gives many meals a fiery complexity. The flavor of your final dish will be dominated by this flavorful mixture, so avoid using harissa in recipes with delicate flavors, since it will overwhelm them. However, if you want to jazz up a dish, grab your bottle of harissa paste and pop the lid.
This hot and garlicky spice paste from North Africa is typically eaten with bread, stews, and couscous dishes. Here are several recipes where the vibrant pungent fiery flavors of Harissa shines and really elevates dishes.
Pumpkin and Coconut Cream soup with Harissa creme fraiche
Halibut rubbed with Harissa butter
Harissa Meatballs
Meatballs with tomato harissa gravy
Angus Beef burger with Harissa aioli
Creamy game day dip fueled with Harissa for crudites or potato wedges
Blending yogurt with harissa paste can also make for a delicious sauce that perfectly complements those beautiful charred bits common in grilled meats. This is because dairy is a flavor-balancing ingredient that will reduce the impact of the paste's heat; however, this also works with non-dairy yogurts.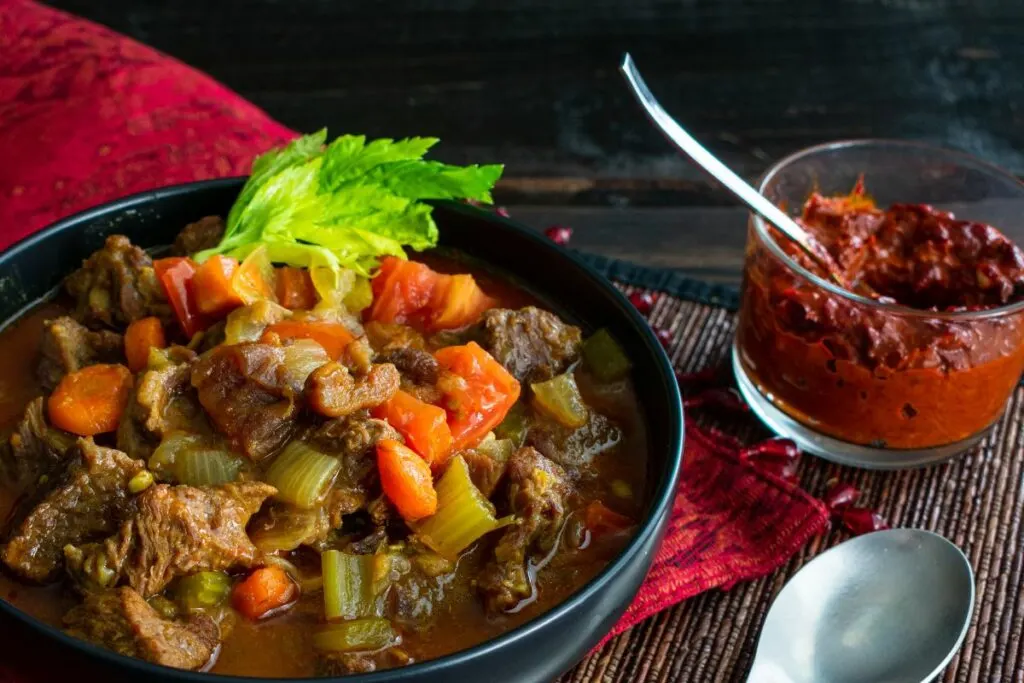 7 Best Harissa Sauce Substitutes
Here are some great suggestions to hack substituting harissa paste in your cooking when you don't have this super hot chili paste— or even just ran out.
DIY Harissa
Any red or green chili pepper you have on hand will work for making homemade harissa paste. To make it, just pulse the peppers— fresh or dried— in a food processor with olive oil, raw garlic, salt, cumin, coriander, and caraway seeds until a paste forms. Process the fresh peppers in a food processor before proceeding, if you're using fresh.
As an alternative, heat the spices and chilies in a skillet before using. Lightly toasted ingredients will release their flavor and natural oils more easily, which will help your harissa paste taste its best. When using dried peppers, rehydrate them in boiling water for roughly 20 minutes. When soft, combine it with the remaining ingredients and pulse them in a food processor.
Making your own harissa paste has the advantages of allowing you to control the ingredients you use, ensuring that it has no unrecognized additives or preservatives, and modulating the amount of heat. To modify the spiciness, add red bell peppers or tomato paste.
Chili Paste
There are numerous types of chili paste available worldwide. The flavor and spice of a good chili paste will enhance your cuisine. Asian chili pastes, such as Nam Prik Pao (Thai chili paste) and Doubanjiang (Chinese chili bean paste), have distinctive characteristics that set them apart from something like a Mexican ancho-guajillo chili paste.
Sambal oelek is one of our favorite hot pepper pastes, so we always keep some on hand. We strongly advise you to get this chili paste from an Asian market if you want to try it and have the time. Sambal oelek, often known as chili paste, is a fantastic alternative to harissa. It contains chili peppers, garlic, and lime juice, which mimic the spiciness, flavor, and natural acidity of harissa. However, the shrimp paste in sambal oelek creates a fishy, savory flavor not found in harissa.
For every tablespoon of this fiery red chili paste, use an equal amount of sambal oelek (a 1:1 ratio). Start with a small portion, taste, then work your way up to the full amount called-for. If this option isn't readily available, read on to find a more suitable substitute for harissa paste in your cooking.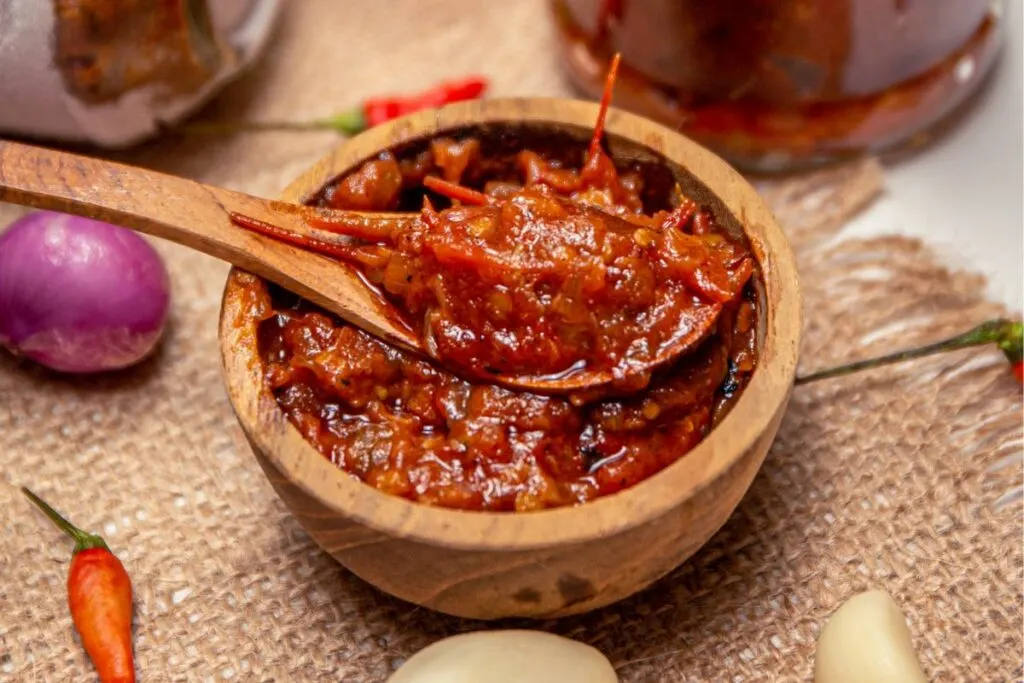 Gochujang
Gochujang, a spicy red pepper paste from Korea, is produced from glutinous rice, red chili peppers, and fermented soybeans. The condiment of gochujang proves itself to be a great alternative to harissa paste. It offers a comparable level of heat and texture, but gochujang's tang is more noticeable. Use at a 1:1 ratio.
Expect the flavors to vary from harissa a bit as a result of the diverse ingredients. The flavor of gochujang can overpower meals, just like harissa, so it's best to start with lower amounts and work up using it 1:1. It functions well when substituting harissa as a base for dipping sauces or a marinade for meat or vegetables.
Gochujang is now easier to find thanks to the rising popularity of Korean cuisine. An international store or Asian grocer should carry this common Korean condiment.
Berbere + Chili Powder
The foundation of Ethiopian cuisine is berbere, a blend of tasty and aromatic spices. In addition to the Middle Eastern spices found in harissa paste, like coriander, garlic, cumin, and ground chilies, this unique mixture also contains paprika, cardamom, fenugreek, allspice, nutmeg, cloves, cinnamon, and ginger.
Although the overall flavor is not as hot as harissa paste, it still has a peppery, sweet, and citrus flavor that adds a lot of spice to dishes. Substitute ¾ tablespoon of berbere spice mix + ¼ tablespoon of chili powder for each tablespoon of harissa that a recipe calls for. Start with half of what's called-for, then taste your food to determine if the harissa flavor is sufficient.
Tabil
To mimic the flavors of harissa in soups or stews, use a Tunisian and Algerian spice blend called tabil. Tabil's prominent flavor notes are coriander, cumin, spicy peppers, and garlic, closely related to harissa paste's seasonings and spices. However, there are additional ingredients in this spice mix like carraway, clove, turmeric, black peppercorn, and fennel, that all together may alter the taste of your dish differently than harissa paste.
Tabil has a warm, sweet, and tangy taste with a pungent aroma and spicy kick close to harissa paste. When using tabil as a harissa paste substitute, combine ¾ tablespoon of tabil with ¼ tablespoon of chili powder. Add to your stew or marinade in teaspoons until the desired flavors are reached. Blend the spices with a bit of oil, if the oil in harissa would be needed in your dish. Although both will lend deep, earthy flavors, always taste-check the dish before adding the full amount of harissa substitute.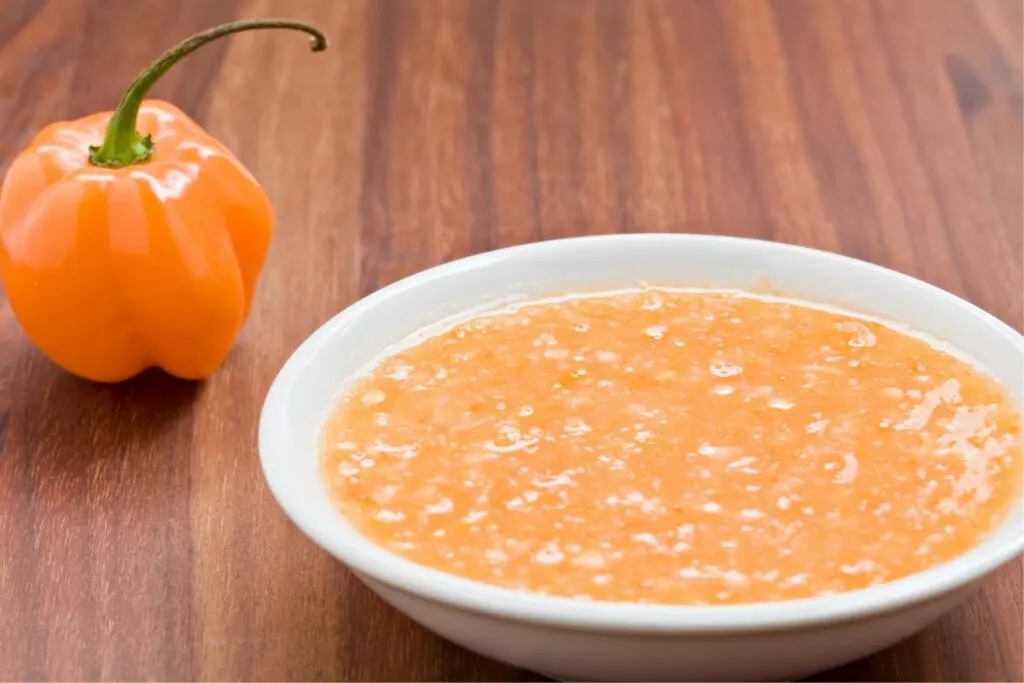 Hot Sauce
When a recipe calls for harissa, you usually just want some heat. In this case, any hot sauce you have on hand will suffice. Tabasco, Sriracha, Louisiana hot sauce, hot pepper sauce, cayenne pepper sauce, habanero sauce, or diablo sauce are all good options.
Because harissa paste has a thick viscosity and will add texture to your dish, and hot sauces are frequently thin, you might need to adjust the consistency. A good ratio to always follow is 1:1, but be sure to match the amount to your heat tolerance and consider adding cornstarch to thicken if needed. You can always add more if necessary, but making a fire extinguisher dish is difficult once the heat's already in the dish!
Tomato Paste + Chili Powder
Tomato paste with a dash of chili powder can be used as a substitute for harissa. It's deliciously thick and flavorful, and while you won't get the same exact flavor, you will get the same consistency.
We recommend combining the tomato paste with a few dashes of hot sauce, or a teaspoon of chili powder or crushed red pepper flakes if you're missing the heat. When you combine them, you get a spicy chili paste that more closely resembles the flavor of harissa paste.
Alternatively, in a food processor, combine the tomato paste and chopped hot peppers of your choosing. Use at a 1:1 ratio. Taste the mixture before and after adding half the called-for amount of the substitute to the dish, and if it tastes too spicy, reduce the heat ratio accordingly. For a sweeter version, swap the tomato paste for plum sauce.