Spending more time in the kitchen due to lockdowns the last couple years has allowed me to explore previously-uncharted pizza-making territory. First, there's a great sourdough pizza dough recipe that I've been using to make guilt-free pizza dough from scratch.
Another is exploring different toppings for pizza night. Admittedly, we churn out a lot of different flavor combos with the kids at the helm. When the mood calls for it or when we've run out of pantry staples, pizza sauces are modified.
Whether you're looking to make personal pizzas or show off pandemic-honed cooking skills, we've listed perfect pizza sauce substitutions. Choose from store-bought ready-made replacements, pizza sauce recipe hacks using ingredients from your pantry, or entirely different creative pizza sauces to try (because some mastermind came up with dessert pizza).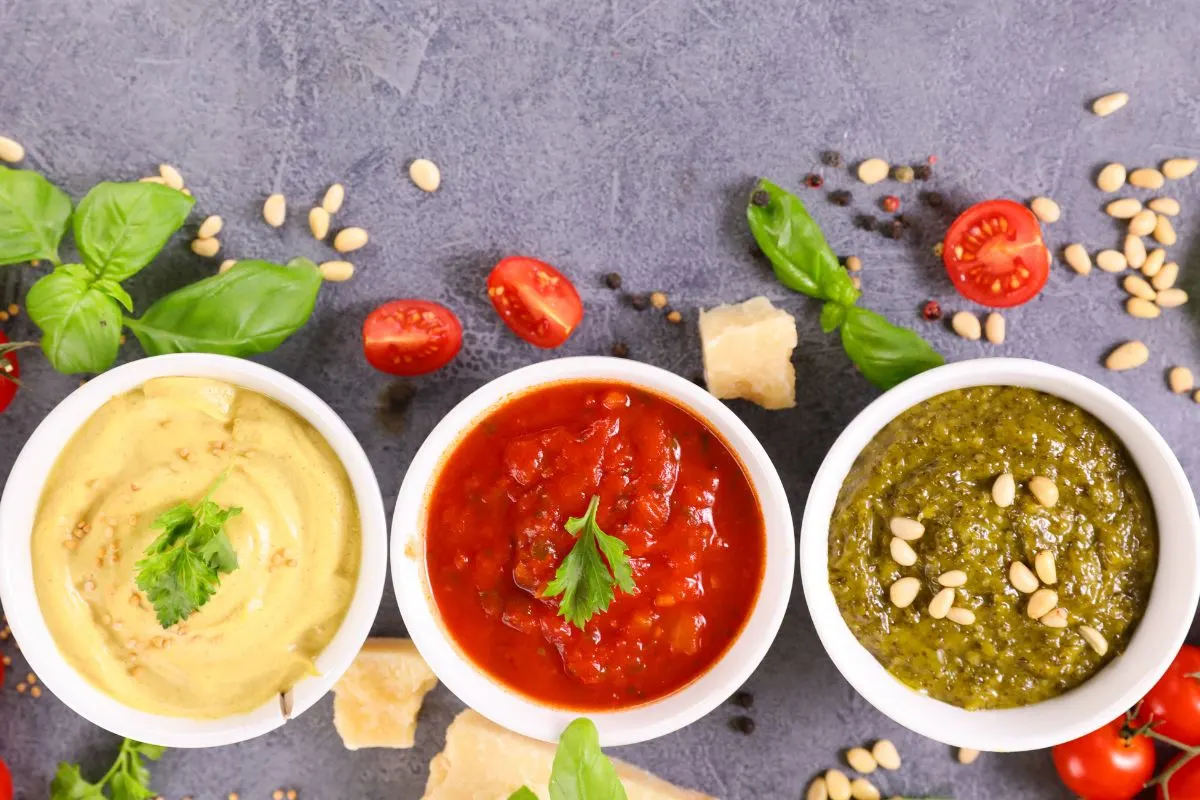 What Makes Up Pizza Sauce?
First, let's talk about pizza sauce. The secret to making good pizza is in the sauce.
Ordinary tomato sauce, or a thicker tomato puree combined with tomato paste constitutes what we know as pizza sauce. This thick sauce, much thicker than the typical pasta sauce (without meat), largely impacts how the pizza will taste. It acts as a barrier between the toppings and pizza dough, preventing it from getting too soggy.
It should have a good flavor profile to complement the toppings. A variety of seasonings and spices may go into pizza sauce, such as Italian seasoning, oregano, thyme, garlic powder, onion powder, garlic salt, black pepper powder, and sometimes even sugar. Adding a sweetener to pizza sauce cuts the tartness of unripened fresh tomatoes and the acidity of canned tomatoes.
There's a slightly tangy taste in pizza sauce that is necessary to harmonize the fats and oils from the mozzarella cheese and any toppings. The overall flavor is generally savory, with hints of sweetness and spice. Some homemade pizza sauce recipes require cooking the sauce before application, so keep that in mind if that's your desired pizza sauce substitute.
How to Use Pizza Sauce
Pizza's origin can be traced back to Middle Eastern flatbread, later improved-upon by the ancient Greeks and Romans by adding toppings to flatbread – now called focaccia. A baker from Naples, Raffaelle Esposito, deserves an accolade for putting together the first-ever version of the pizza we all know and love today.
Pizza sauce calls for a smooth paste-like tomato sauce. It is usually pureed to reduce the number of chunks, though some people prefer their sauce with more texture. Pureed tomatoes make it thick enough to add a layer of flavor between the pizza dough and its toppings.
Generally, pizza sauce is spread not too thinly on the dough as a base between the toppings. It is cooked simultaneously with the dough and toppings, harmonizing all the flavors together in the oven.
Homemade pizza sauce is quick, easy to make, and convenient, with most of the ingredients commonly found in your home pantry. Whether it's whipping up a batch or buying pre-made, never fear ending up with leftover pizza sauce. The versatility of this thick, flavorful sauce is endless – from meatball subs, paella, and appetizer dips, to repurposed pasta sauces.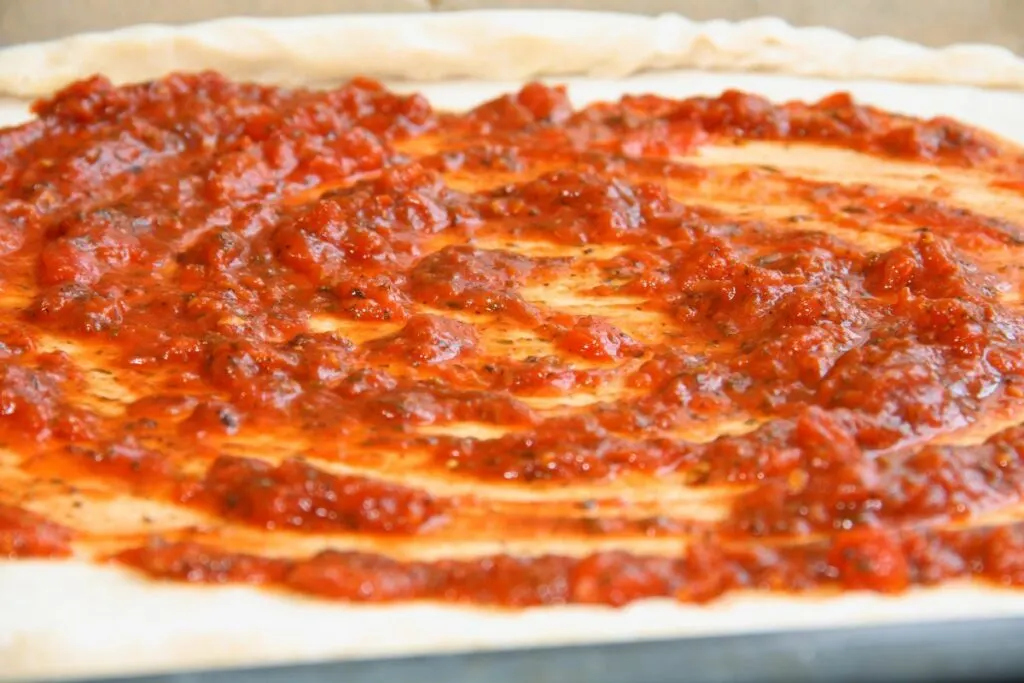 9 Best Pizza Sauce Substitutes
Homemade Pizza Sauce
The most practical way to replace store-bought pizza sauce is to make it from scratch. Ripe pureed tomatoes, tomato paste, and seasonings come together to make a healthier version of the ready-made sauce. Enjoy the ripe taste of fresh tomatoes in every bite. Try this recipe.
Pantry items: Canned Tomato + Tomato Paste
If you have high-quality canned tomatoes, they can provide a suitable substitute for pizza sauce. Mainly used for pasta sauces rather than in pizza, the consistency of canned tomatoes is thinner than desired and comes with a lot of excess liquid. Without altering it, the chances are the pizza sauce will be too thin and make the dough soggy.
Be sure to pulse the chunky bits in a food processor to turn them into a smooth consistency. Adding tomato paste will make it richer in color and texture, then you can season to taste.
Leftover Spaghetti Sauce
When you've made a ton of pasta sauce and want to use it up, try it as a pizza sauce substitute with just a little bit of alteration. Homemade spaghetti sauce may have a thinner consistency than what is called for in a pizza. Tweak it by pureeing the chunks some more (but not too thinly), and then straining out the excess liquid. You can also cook it up some more in a saucepan or just add tomato paste to thicken it. Always check the flavor to see if the seasoning needs some adjustment.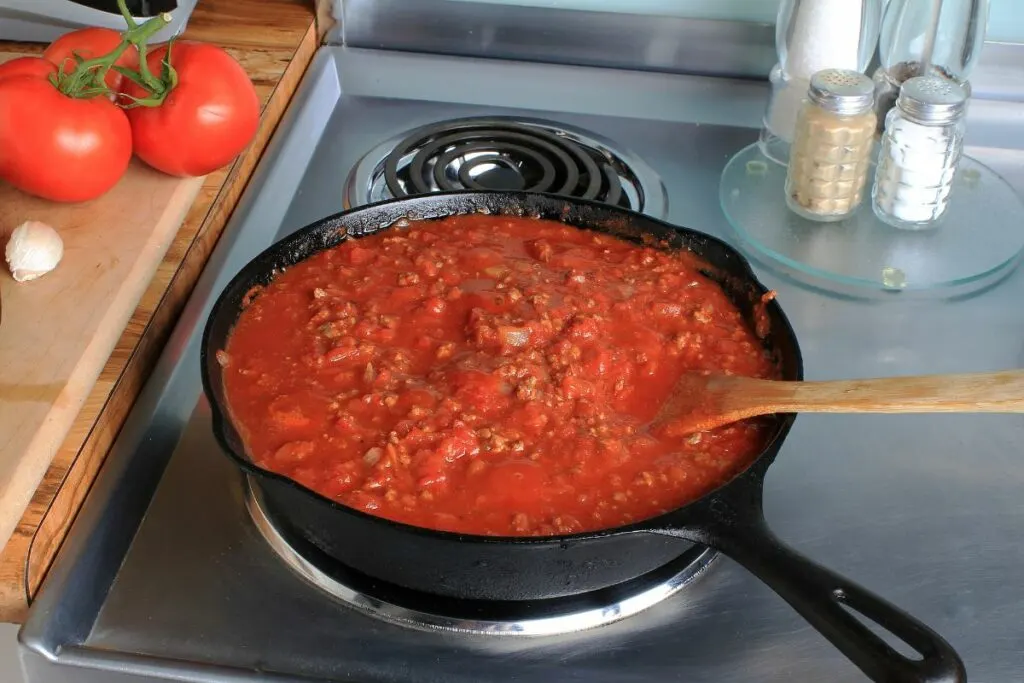 Pantry Items: Tomato Sauce + Tomato Paste
If all you have are packets of tomato sauce and paste, then you can combine them to easily make pizza sauce. The bright flavors of tomato sauce with its runny consistency will be easily tapered by the thickness of the concentrated tomato paste. Some tomato sauces have added ingredients like herbs, spices, and seasonings, so when you add the bold flavor from the tomato paste, this means double or triple the strength.
Homemade "Nomato" Pizza Sauce
AIP protocol, vegan, and nightshade-free eaters are familiar with this substitute. This ingenious creation mimics the look and taste of pizza sauce without the usual ingredients. A combination of earthy and sweet root vegetables – onions, carrots, beets, and/or squash are blended with lively seasoning from garlic, and fresh herbs (substitute dried herbs if you like). It is then cooked in red wine vinegar and then balanced off with honey.
It's never too late to explore an indulgent but clean and whole "nomato" pizza. Try this recipe, and consider making ti a creamier sauce by adding coconut milk.
Store-Bought Marinara Sauce
Marinara sauce is a convenient alternative to pizza sauce when you're missing tomatoes or tomato sauce. Available as a ready-made sauce from the supermarket, marinara is a thick, well-seasoned sauce. Each manufacturer has their own recipe, so check the consistency and flavor before using one. Modify the consistency by adding tomato paste or cooking it on the stove to thicken up. Adjust the flavor by seasoning it to taste.
Oil-Based Pizza Sauce: EVOO or Pesto
This isn't a direct substitute for a tomato sauce-based pizza, but we just love any kind of pizza with cheese on it, no matter the sauce. This version calls for a drizzle of extra virgin olive oil with roasted garlic and fresh herbs, or pesto sauce directly on pizza dough (or flatbread). This may be an unusual pizza sauce substitute, but it is definitely apropos of a classic pizza. Try this recipe.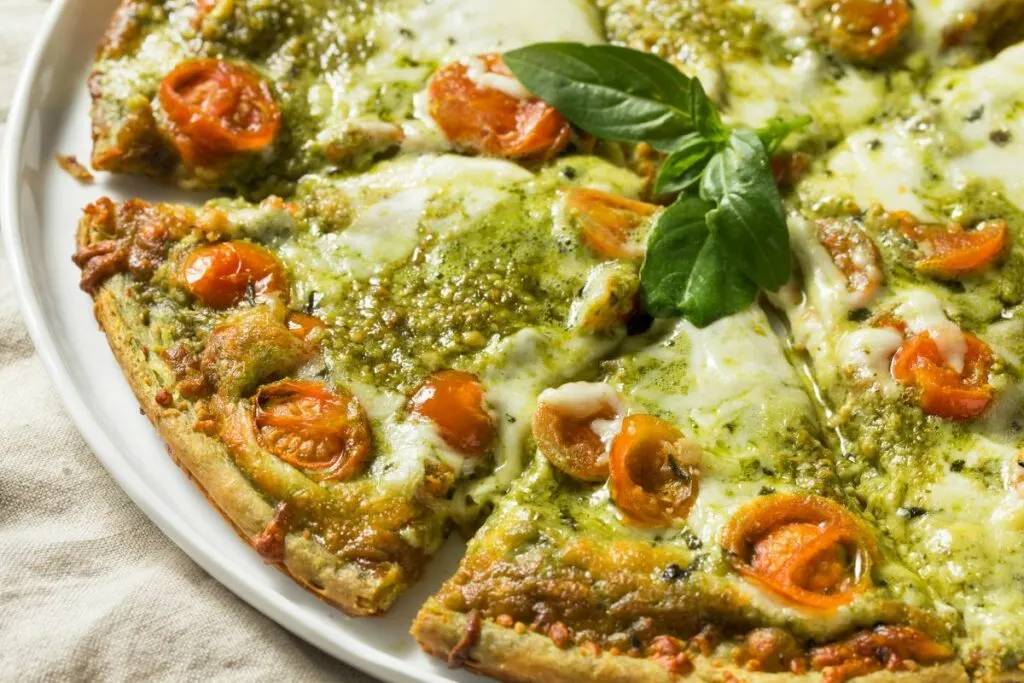 White Pizza Sauce: Bechamel or Alfredo
A white sauce base is another atypical pizza sauce substitute, and can even be made vegan with a base like almond butter. Bechamel or Alfredo sauce is spread on the dough before adding toppings, acting as another nightshade-free pizza sauce substitute. Classic bechamel is a mix of butter, flour, and milk, while a traditional alfredo is a combination of parmesan cheese, butter, cream, and salt.
White pizza is not the healthiest type around, but when we get cravings for truffles, this is the perfect base. Level up your home pizzeria with a white sauce pizza base.
Dessert Pizza Sauce: Nutella, Chocolate Sauce, or Nut Butters
We know, we know — you were looking for a savory pizza sauce, but we just can't help it. Have you ever tried dessert pizza? If not, you should! Dessert pizza is God's gift to those of us with a sweet tooth. Bake your dough, then lather on Nutella, chocolate sauce, or any nut butter. Top with fruits, nuts, and other confections, and you've got yourself a no-fuss dessert from spare pizza dough. Enjoy it with an espresso or a strong cup of tea. Dolce gusto!