Nothing beats a good classic homemade sauce, especially a Mexican sauce. The delicious, slightly spicy kick you get from them is a welcome treat. Two popular ones I know you've probably heard of are salsa verde and green enchilada sauce. But deciding which one to use can be tricky.
This is why I'll be putting both head to head. Salsa verde vs green enchilada sauce. A showdown of flavors, textures, uses, and more to decide which is your best shot at a truly delicious sauce.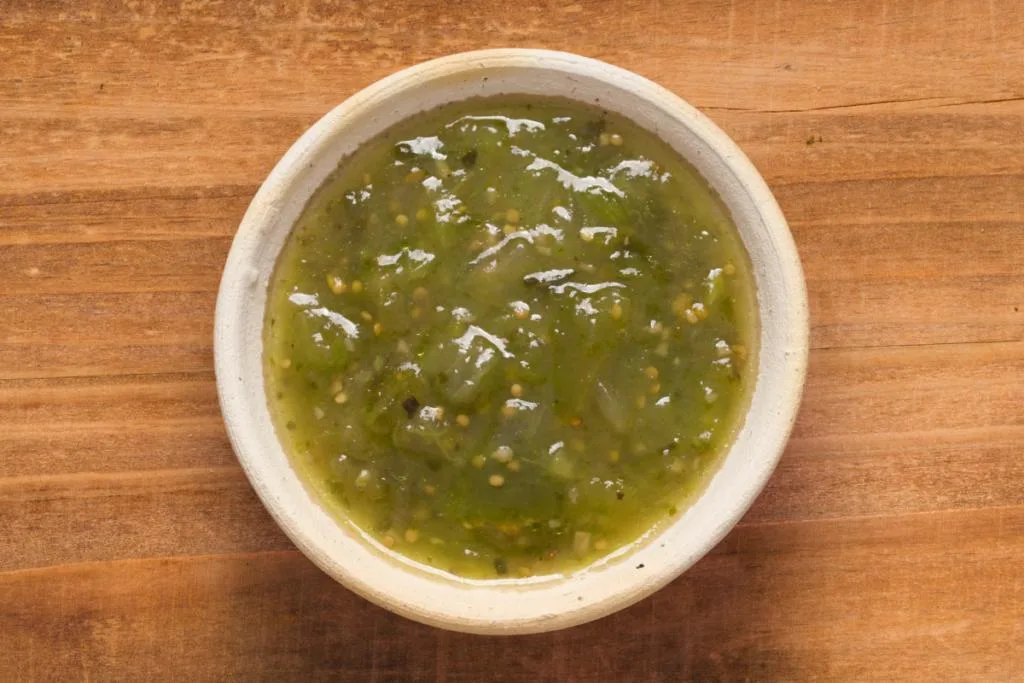 What Is Green Enchilada Sauce?
Green enchilada sauce is a delicious sauce in Mexican cuisine made with green chilies, tomatillos, onions, garlic, and other ingredients to form a tangy, slightly sweet, and slightly spicy flavor.
This sauce is often used as a topping for enchiladas, which are tortillas filled with meat, cheese, or vegetables and then rolled up and baked in the oven. It can also be used as a marinade for meats or as a dipping sauce for chips.
However, the ingredients used largely depend on the type of green enchilada sauce being made, with some recipes including additional ingredients such as cilantro, lime juice, or cumin.
How To Make Green Enchilada Sauce
This sauce is made with green chilies, tomatillos, onions, garlic, and cilantro, giving it a tangy and herbaceous taste. All you need to do is roast the vegetables, blend them with jalapeño peppers and cilantro, and simmer the mixture with chicken or vegetable broth until it has thickened slightly, creating a delicious Mexican sauce.
If you're interested in making your own green enchilada sauce, you can follow Gimme some Oven's recipe to make it.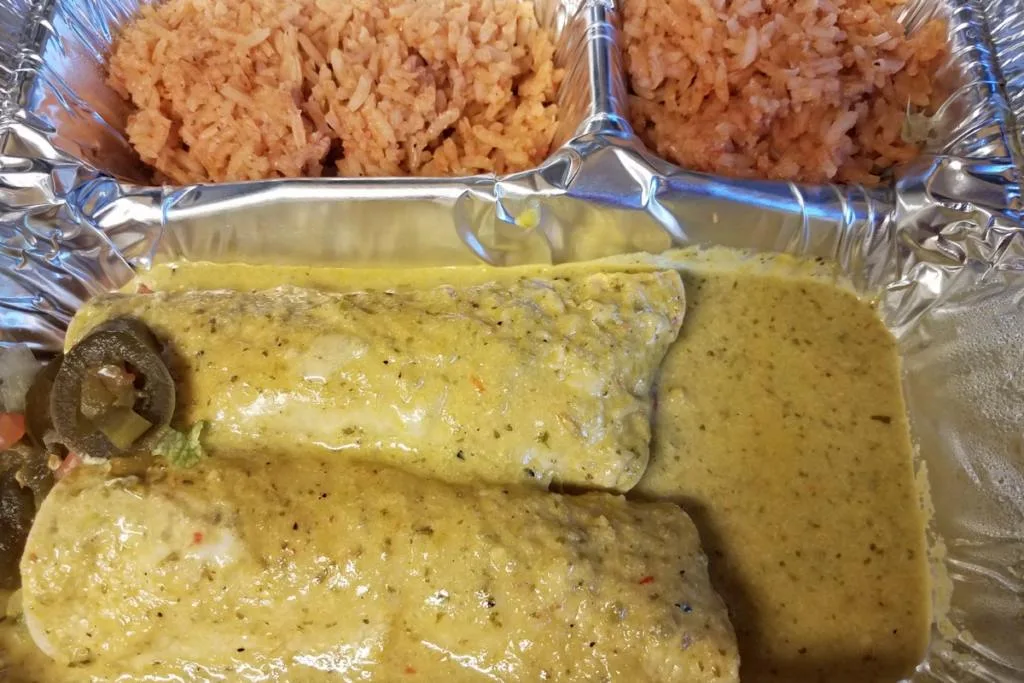 What Is Salsa Verde?
Salsa verde gets its name from the Spanish words for "green sauce," and it's no surprise why, as the sauce is a vibrant shade of green. This flavorful condiment is made by blending tomatillos, chili peppers, onions, garlic, and cilantro, with the star ingredient being tomatillos, which look like small green tomatoes but have a unique sweet and tangy taste.
This salsa is a jack-of-all-trades when it comes to uses. It's the go-to topping for tacos, enchiladas, and other Mexican favorites. But that's not all, as salsa verde can also be used as a marinade for meats or as a flavorful base for soups and stews.
How To Make Salsa Verde
Salsa verde is made with tomatillos, chili peppers, onions, and other flavorful ingredients. Just roast the tomatillos and chili peppers, then blend them with onions, garlic, lime juice, and cilantro. This will create a tangy and spicy sauce that pairs well with tacos, enchiladas, grilled meats, and more.
If you're interested in trying out this recipe, here's a from Cookie and Kate to get you started.
Similarities and Differences Between Salsa Verde vs Green Enchilada Sauce
Taste
Salsa verde has a more tangy, tartier, and spicy flavor from green enchilada sauce, which has a creamier and sweeter taste thanks to the use of sour cream and cheese.
Texture
Both have a smooth, slightly chunky texture, though salsa verde is thinner and more watery, while green enchilada sauce is thicker and creamier due to the addition of cream or sour cream.
Consistency
Salsa verde has a thin and chunky consistency, similar to your typical salsa. However, this isn't the case with green enchilada sauce, as it has a thicker and more creamier consistency.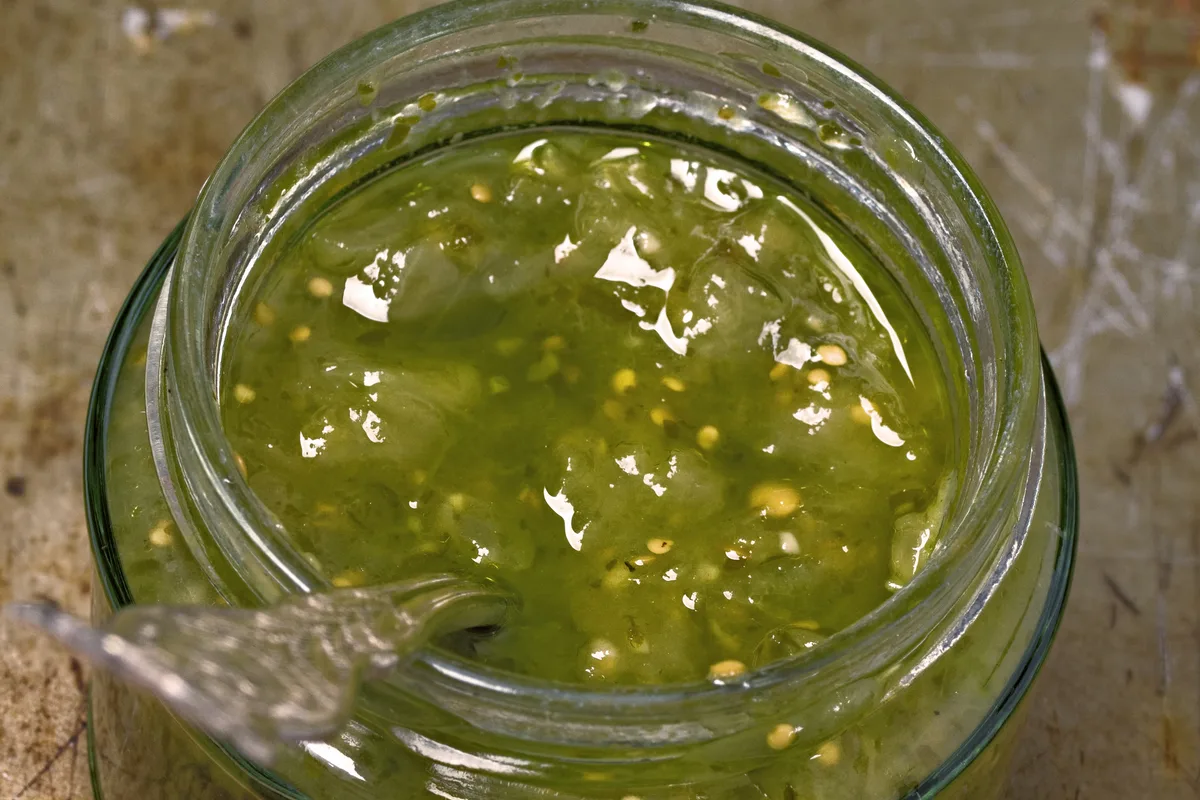 Can I Substitute Green Salsa Verde For Green Enchilada Sauce?
While green salsa verde can technically be used as a substitute for green enchilada sauce, they're not identical. The differences in flavor will be something to look out for. However, both options can add a tangy and spicy kick to your enchiladas, so it ultimately comes down to personal preference and what ingredients you have available.
Which One Is Easier to Make at Home?
Actually, both sauces are easy to make at home. However, if we had to do a quick salsa verde vs green enchilada sauce-making challenge, the former is generally easier to make and is around in less than 10 minutes as it requires fewer ingredients and less preparation time than green enchilada sauce, which may take up to 30 minutes to prepare.
Can I Make Green Enchilada Sauce From Salsa Verde?
Transforming a salsa verde sauce into green enchilada sauce requires adding a few more ingredients that will significantly change the flavor and texture of the sauce. Combining salsa verde with chicken broth, onion, garlic, cumin, chili powder, salt, pepper, vegetable oil, and flour makes the sauce richer and more complex in flavor, becoming that of green enchilada sauce.
That added splash of flour thickens the sauce, giving it a creamier texture that's perfect for smothering over enchiladas. The resulting green enchilada sauce is a delicious blend of tangy, savory, and slightly spicy flavors that will add depth and complexity to any Mexican dish.