If you love curries and fancy slathering them onto rice or sopping up bits with your naan or parathas, then you almost always have leftover curry at any given time. Leftover curry is usually a gravy with rich spices, herbs, and aromatics like cumin, coriander, turmeric, mustard, cinnamon, garlic, and chili with meat and vegetables.
It's also nothing to be sad about because you can fashion it into delicious dishes and recipes for yourself to enjoy. In fact, your leftover curry can be served the next day, with the flavors actually coming together better with each passing day. However, repurposing it is another adventure in itself.
You can use it as a stuffing for a wrap or sandwich, a topping for baked potatoes or a quick rice dish, or a base for a soup or delicious homemade sauce. But with so many ways and recipes to make it, what should you do with it? Fortunately, I've got an excellent tried and tested list of 15 different ways to use up leftover curry.
I've made sure to include recipes based on a variable amount (depending on how much leftover curry you have). But before we dive into some recipes, let's first cover some details behind what curry is.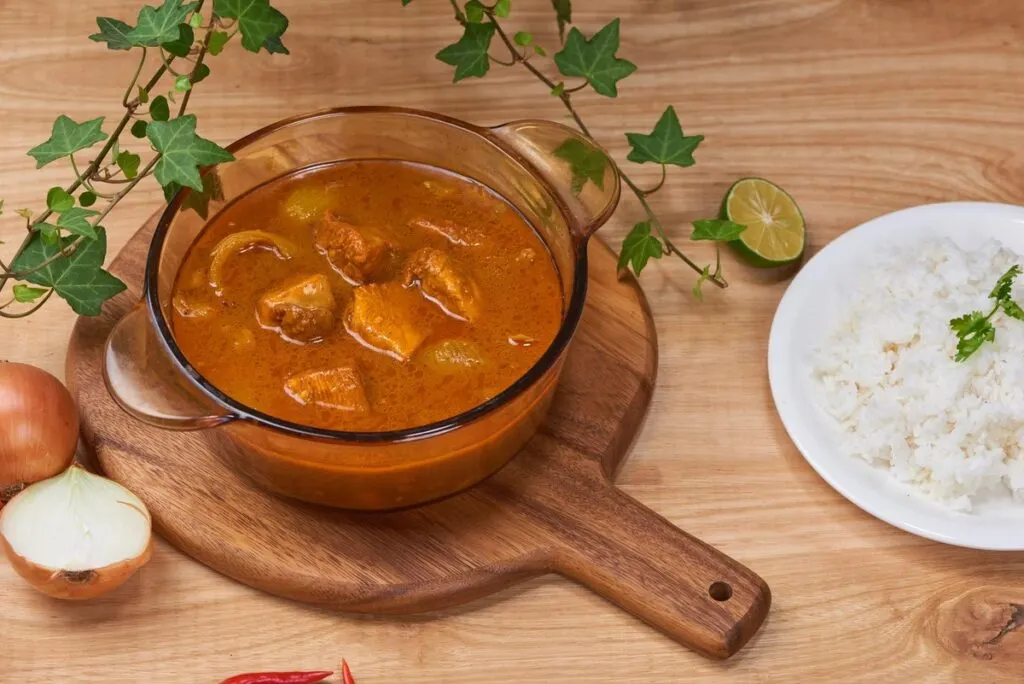 What is Curry?
Before I get into the recipes, allow me to briefly describe curry. Curry is actually a sauce or gravy made of a complex blend of spices, herbs, and aromatics. Yes, that's right, it's not an actual spice. With that said, here are a few types of different curries.
The OG Curry
Said to have originated in India, this type of curry has a warm, robust, spicy taste and is typically served with basmati rice, naan, or other breads. The dish typically includes meat, vegetables, beans, or legumes. Indian curry also contains spices like turmeric, cumin, coriander, clove, fenugreek, cardamom, and chili powder.
Curries Around the World
Curry dishes are cooked throughout the world, particularly in Asia. The ingredients, flavors, heat levels, and consistency have all diversified from the original dish itself according to geography, ingredient availability, and the cultural and religious preferences of the region.
East Asian curries like Japanese curry tend to be a thick, savory, and mildly sweet sauce with pork or beef and only a tinge of spice, while Southeast Asian curries like Thai curry tend to be sweet and creamy with the addition of coconut milk and fresh and bright with the use of fresh ingredients.
There are also dry curries known to the Middle East and really spicy curries like South Africa's Durban curry. There are derived curries like Chinese curry, which is inspired by Japanese curry, and British curry, which was taken from Indian curry.
Though specific ingredients and techniques of preparation differ depending on the country, its many forms all have that distinct, recognizable taste that any curry dish will always have.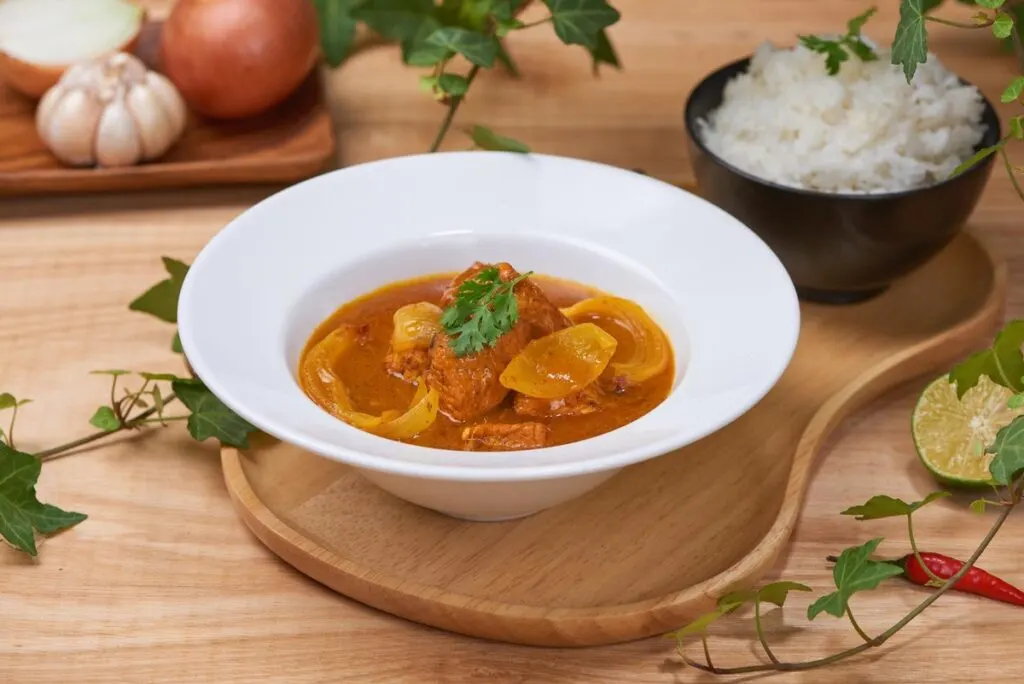 15 Ways to Use Up Leftover Curry
Whether you want to use your leftover Thai curry for a meatless Monday or an Indian curry for snacking on a curry turnover or empanada, these leftover curry recipes will fit any occasion.
Appetizers
Curry Vegetable Fritters
Curry vegetable fritters are amazing if you have a little bit of curry leftover that you don't want to waste. They're made with curry, grated potatoes, carrots (feel free to sub with other veggies), and self-rising flour. Pan-fry them in oil until cooked through, crisp and golden. They'll go great with a raita, chutney, or just plain Greek yogurt.
Check out the recipe for Leftover Curry Vegetable Fritters.
Curried Sausages and Onions
Are you looking to make a delicious, hearty combination for tonight's game? This dish is like a sauce-y currywurst that'll give your boring old sausage platter a much-needed facelift! First, you slice, then saute your sausages and sweat the onions. Lastly, bring out that leftover Thai or Indian curry to heat up and toss them all together in the same pan to create a tasty snack for guests and families alike to enjoy.
Check out the recipe for Curried Sausages here.
Rice Dishes
Leftover Curry Pulao
With this recipe, you can skip all the pulao steps and dump curry and long-grain rice into a rice cooker. This way, you'll get deep flavors from the pre-made curry dish fully absorbed into the rice. I would also season the mixture before turning on the cooker with salt, pepper, and some more spices like cumin and garam, or maybe put in some bay leaves and star anise in there.
Check the recipe for Leftover Chicken Curry Pulao.
Leftover Curry Chicken Biryani
Like our pulao recipe above, we can make an amazing chicken biryani dish with leftover Indian curry. Although this recipe needs more leftover curry than basmati rice, so check your proportions beforehand. I'd say about a cup and a half of leftover curry to a cup of cooked basmati.
This recipe can also be done in the rice cooker, so if you're doing this, I'd sweat the onions separately. When you have your cooked rice, onions, and leftover curry, layer them in a rice cooker with the rice first, curry, onions, and then repeat the process.
Switch it on, and about 30-45 minutes later (depending on the quantity), your chicken biryani from leftover curry is ready to be eaten.
Check the recipe for Leftover Curry Chicken Biryani.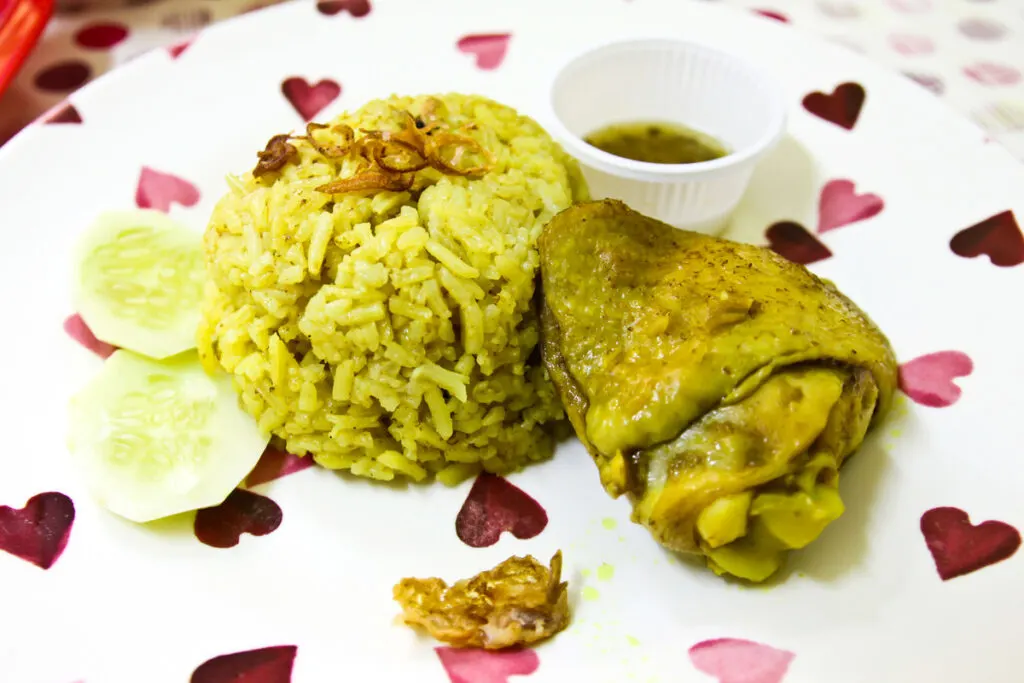 Japanese Curry Doria
Combining the flavors of Seafood Doria and Japanese Curry, this gratinated rice dish turns leftover curry into a completely new meal. Swap the tomato sauce base and instead sauté your meat, then add the curry. Layer the meat over cooked rice, sprinkle cheese and panko on top, and there you have it. A delicious Japanese-style curry.
Check the recipe for Curry Doria here.
Noodle and Pasta Dishes
Curry Ramen
Typical Japanese curry packets make a ton of leftover curry, so this is another great use for any leftover curry. Cook some vegetables in water and then add the leftover curry. You can use starchy veggies or add a thickener to make a thicker soup base while adjusting the seasoning to taste. Finally, add the noodles in. Fresh or instant ramen noodles work well in this hearty soup recipe.
Check the recipe for Vegan Curry Ramen here.
Curry Noodle (or Pasta) Stir-Fry
This has got to be one of the simplest ways of using up leftover Thai curry. If you've got about two cups left of any Thai curry dish, then this is how to revamp that dish. Prepare your pasta or noodles according to the package instructions. Saute your aromatics and cook the vegetables. Add in the curry, then noodles, and toss together for a quick weeknight meal.
Check the recipe for this Red Curry Noodles here.
Curry Laksa
Curry laksa or curry mee is a Malaysian coconut curry noodle soup. This magical dish is a blend of Chinese noodles and Southeast Asian flavored curry topped with shredded chicken, shrimp, beansprouts, tofu, cilantro, lime wedge, and red chilis (or chili paste or sriracha). Using up a sizable amount of leftover Thai chicken, seafood, or beef curry, you can easily turn it into laksa with noodles and the toppings above.
Check the recipe for an Easy Curry Laksa here.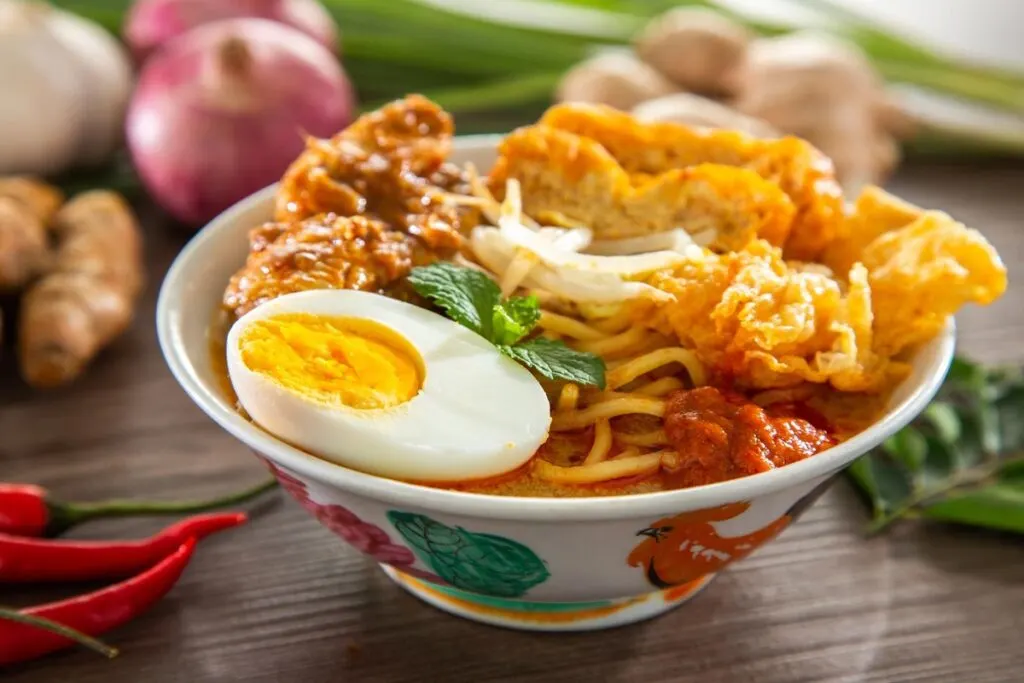 Savory Dishes
Creamy Egg Curry
Give your hard-boiled eggs for breakfast a twist with a tomato-based curry sauce and add it on top of rice or sourdough bread. To prepare them, make hard-boiled eggs, and in a saucepan, saute the onions, cook the chopped tomatoes or a can of diced tomatoes, then add in the peas (or substitute with what you have, like chickpeas).
Combine the leftover Indian curry with all the meat, legumes, and beans going into the pot. Finally, put the eggs in the pan, coat with the sauce, and serve.
Check the recipe for Egg Curry here.
Curry Omelet
If you only have a little bit of Thai curry left (about a quarter cup), save that for your breakfast omelet the next morning. This amazing dish cooks all together in a skillet. All you need to do is whisk about 5 eggs, tomatoes, onions, green chilis, and leftover curry in a bowl, and that's it!
The only thing left to do is to cook your omelet. Just as a reminder, since this is a large batch, make sure to leave your omelet mixture to set properly or browned well at the bottom before flipping.
Check out the recipe for Sri Lankan Curry Omelet here.
Curry Soup
If I'm being honest, curry soup is my go-to on a rainy day. Whether I have leftover Indian curry or Thai curry, I simply thin it out with stock, add meat and/or vegetables to the pot, and let the flavors come together. The recipe below makes it from scratch, but you'll save a ton of time upcycling our leftover curry dish instead.
Check the recipe for Curry Soup here.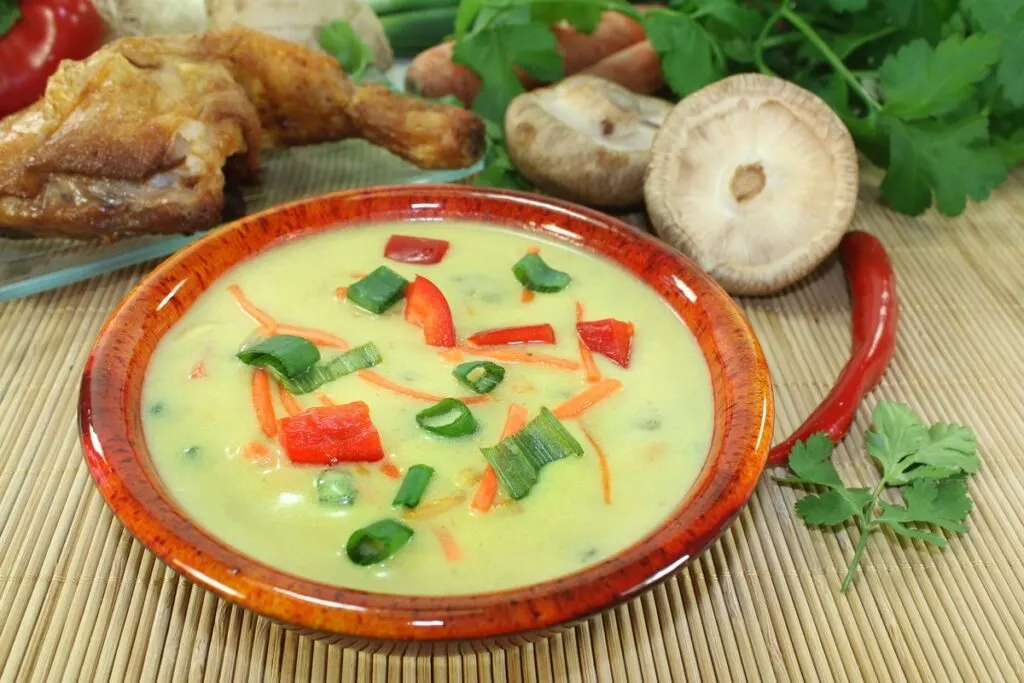 Deep-fried Tofu with Curry Sauce
Do you have a ton of leftover curry sauce with no more meat or vegetables left? Then use it as a sauce! Simply deep fry some tofu or pop them in the air fryer. Set them aside. Bring out your leftover curry sauce and thicken it with canned or chopped tomatoes.
Drain them because we don't want the runny sauce, then pour the sauce into a deep dish and top with the fried tofu. Alternatively, you can use the sauce as a separate dipping sauce by thickening it even more and serving the tofu and sauce separately.
Check the recipe for Easy Tofu with Curry Sauce here.
Kofta Balls with Curry Sauce
Another great way to use up some leftover Indian curry is to make Kofta balls with curry sauce. To start, we need to make Pakistani-style meatballs using any ground meat like chicken, lamb, or beef, with garam masala, cilantro, mint, ginger-garlic paste, cumin, coriander, turmeric, chili flakes, panko, and seasoning. After, broil them until golden.
Next, we emulsify leftover curry with heavy cream and tomatoes and adjust the seasoning if needed. Once done, we layer the meatballs on top of the thick curry sauce and serve with rice or flatbread.
Check the recipe for Kofta Kebab Masala here.
Bread and Sandwiches
Curry Puffs
This curry puff recipe is so delicious and such a good way to use leftover curry, provided you have about two cups worth. There's no need for any baking skills here whatsoever. All you need is your oven and a pastry block from the grocery.
Shred or flake your meat, then mince or mash up all the vegetables in your curry before placing them in the puff pastry. Bake in the oven for 15-20 minutes, and your curry puffs are all done. Check the recipe for Leftover Curry Puffs here.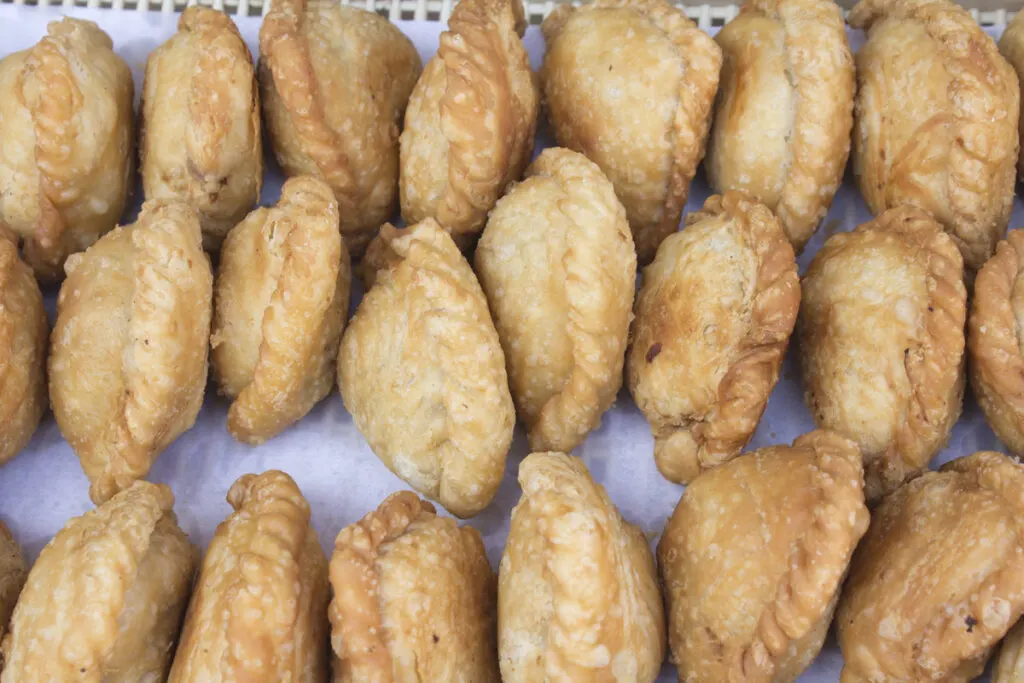 Kare Pan
Have your curry dreams taken you into a Japanese bakery with a vivid image of you grabbing those aromatic, hot, golden kare pans? Dream no longer, as this recipe makes perfect use of leftover Japanese curry in this delicious pastry. There's also no need to be an expert baker with the easy-to-make dough in the recipe.
Chop up the meat and vegetables in your leftover Japanese curry and set aside. Fill the dough with curry, apply a coating of whisked egg, sprinkle with panko, then leave it to rise. Once risen, deep-fry it until golden. They can be kept in the freezer for up to a month, then deep fried whenever you're craving hits.
Check the recipe for Japanese Curry Bread here.