Modern consumers are increasingly familiar with natural ingredients, paving the way for the emergence of natural sweeteners and substitutes in recipes. Enter applesauce, which has now been upgraded from a healthy snack to a versatile baking ingredient.
The question we get most is for a suitable substitute for applesauce when we have an intolerance, don't like the taste of it, or just want to skip the store-bought canned variety. The answer depends on the role it's playing in your cooking. Once you know that, you can easily pick out the best applesauce alternative to suit your needs.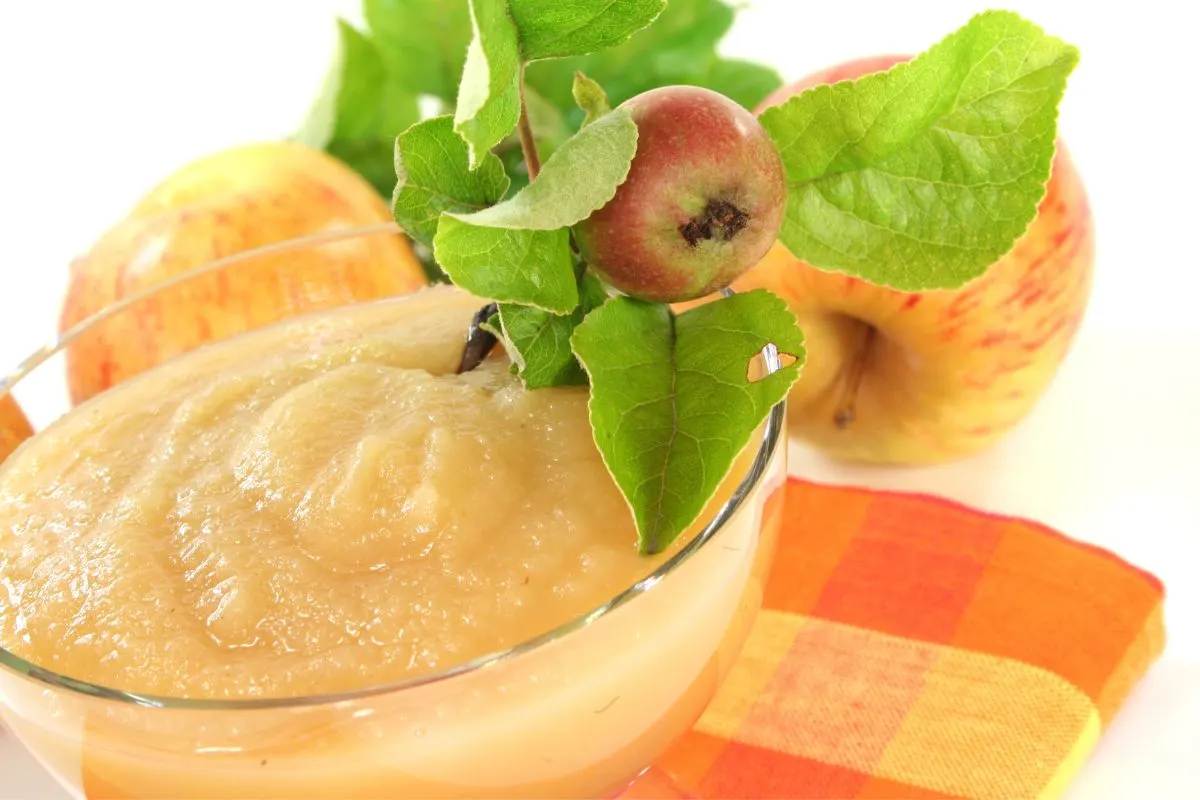 How is Applesauce Made?
There are a host of reasons you might be looking for an alternative to applesauce. So first, let's talk about what applesauce is and how it's made. This way, when you do pick an applesauce substitute from our list below, it will be easier to adjust the ratios of the ingredients.
Applesauce is generally made by boiling or baking apples with water, apple juice, or cider. Once softened, the fruits are mashed up to a chunky or fine consistency. When the apples cook, they lose some of their natural acidity, so usually flavorings are added to improve the overall taste.
Some non-apple flavorings that can be added are cinnamon, nutmeg, and vanilla. Citric acid, ascorbic acid (Vitamin C), or lemon juice may also be used to retain the sauce's yellow color and prevent it from turning brown.
Applesauce is made from a single or blends of apple varieties, typically cored and peeled or unpeeled before cooking. Commercial applesauce only uses apples that meet a specified grade requirement. Prior to being put in sterile containers, the 'sauce is heat sterilized, often through pasteurization, to maintain the quality and safety of the final product.
The light sweetness and tartness combined give applesauce its delightful taste. There is a substantial apple flavor, with a hint of sweetness balanced by a light acidity, similar to with pepper jelly.
Similar to the health benefits gained from apples, applesauce is packed with goodness. It's also high in soluble fiber, which can help lower cholesterol levels, and high in antioxidants, polyphenols, and vitamin C which helps reduce the risk of chronic disease.
Canned applesauce brands vary. When purchasing, make sure to pick out an all-natural, unsweetened one with no more than 2 ingredients. Additionally, if you're used to applesauce with a more complex taste, read the label to see how much sugar or what additives it may contain. Applesauce should be refrigerated once opened.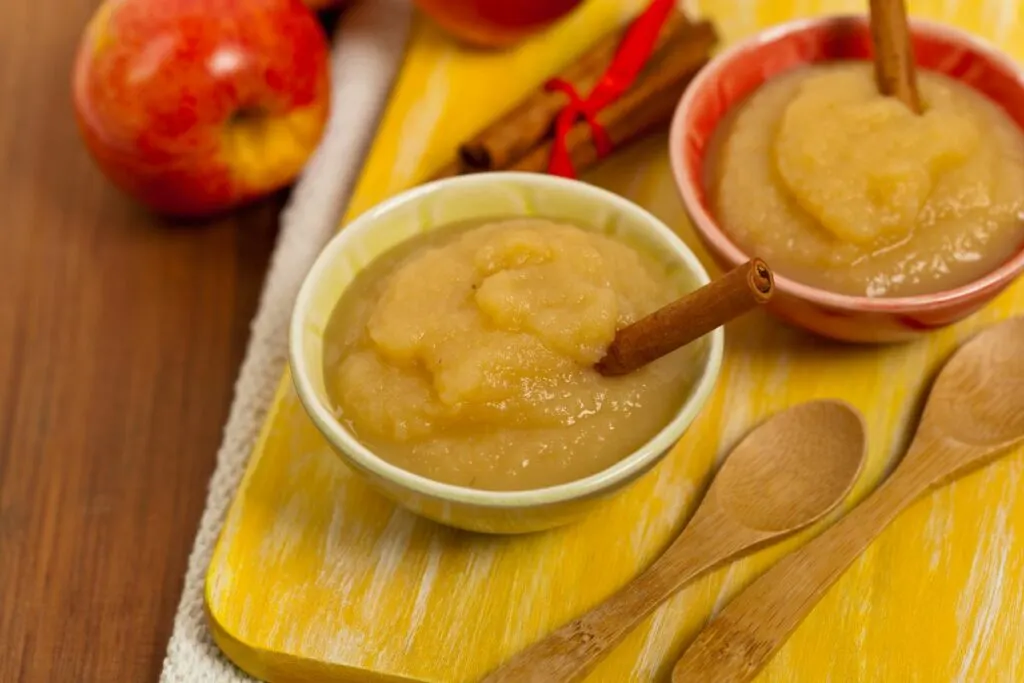 How to Use Applesauce
While many grew up eating unsweetened applesauce as a healthy snack, its variety of roles in kitchen recipes is still being discovered. Enjoy this delectable sauce in a variety of ways. Eat it by itself as a healthy snack, or alongside grilled meat and vegetables for a nutrient-dense meal.
It also makes a delightful addition to cold beverages like smoothies and power bowls. In baking, applesauce is added for its taste and sweetness. In lieu of eggs, it works as a liquid binder and is a great alternative for fat in recipes because it provides moisture while reducing overall calories and fat content.
In culinary applications, it provides consistency, flavor, and texture to sauces, salad dressings, and glazes. Fire up the grill and barbecue some chicken served with applesauce on the side.
5 Best Applesauce Substitutes
So what's a good stand-in for applesauce? The best applesauce substitute is apple purée; otherwise, any of these subs will do depending on the role it will perform in your recipe.
Homemade Applesauce
Instead of buying canned or bottled applesauce, why not make it yourself? It's really simple to make and all you need are several apples and a high-powered blender.
Homemade applesauce is essentially puréed apples with some added liquid and lemon juice. You can add flavorings if you wish but, most let their natural flavor shine with no added sugar.
The flavor and texture can become exactly the same as any store-bought applesauce you admire. It all depends on the variety of apples and any flavorings that you use, and because it's homemade, you'll know exactly what's inside. The last thing to note is that even though applesauce is naturally sweet, many people prefer to still make it a tad sweeter.
Sugar, honey, and agave nectar can all be used to enhance the sugar content of applesauce. To make this switch, simply core an apple, skin on in a high-speed blender, and use the purée in a 1:1 ratio. Use this as a substitute for applesauce in all cooking or baking.
Pumpkin Puree
Pumpkin purée is peeled, cooked pumpkin that is mashed to a fine pulp, much like applesauce. While different in texture from the chunkier version, it can also pose as a stand-in for the sauce.
If using this as an alternative to applesauce in baked goods it can provide a similar consistency, but the taste profile is completely different. If the change from apples to pumpkin is fine by you, use it in a 1:1 ratio and add a sweetener if needed to enhance the taste of your baked goods.
You can make pumpkin purée at home or easily buy some from the grocery, but there are a couple of things to consider when buying store-bought pumpkin purée. First is to make sure to buy a can of pumpkin puree and not pumpkin pie filling mix. Pumpkin pie filling or mix is a sweet, spiced pumpkin blend used to make baked goods like pumpkin pie. Second is to look out for an option without preservatives or artificial flavors.
Sweet Potato Mash
Sweet potato mash is made by peeling, baking, and then blending sweet potatoes. Depending on the harvest and variety of the sweet potatoes, they can approximate the sweetness of applesauce albeit without the tartness.
Like other vegetable purées, sweet potato mash is a nutrient-rich alternative for applesauce in muffin or cake recipes. Just note that it doesn't perform well when replacing fat in baked goods. To use as a substitute for applesauce, thin out the mashed sweet potatoes with a little water and use in a 1:1 ratio. Add a squeeze of lemon to replicate the tartness of the sauce, if desired.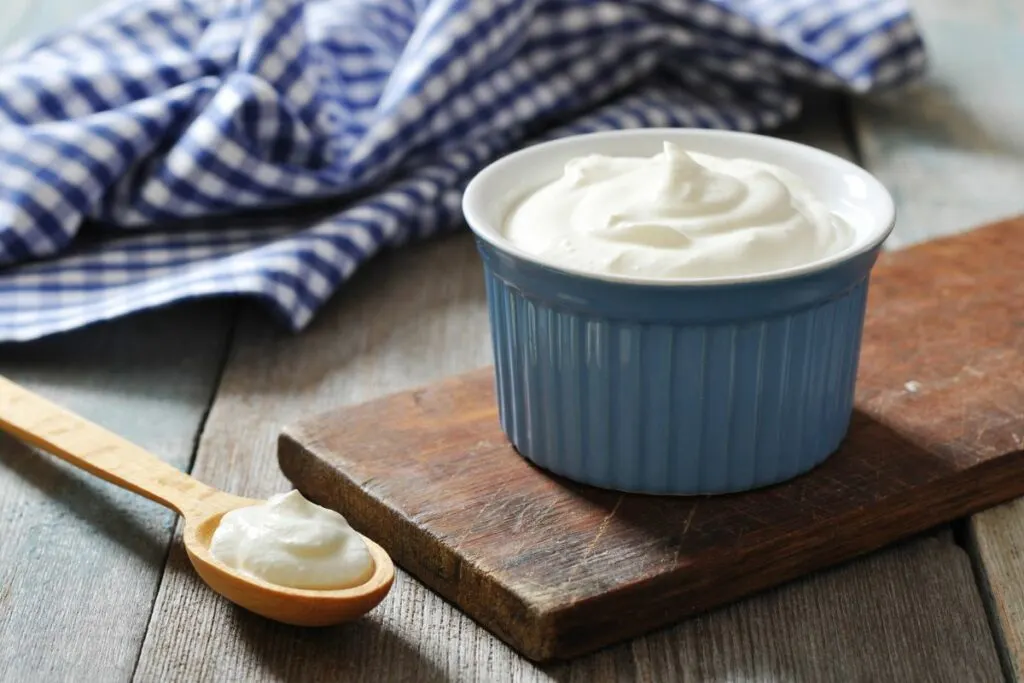 Greek Yogurt
Greek-style yogurt is made by straining out the extra whey in regular yogurt. Also known as concentrated or strained yogurt, this type is thicker, creamier, less sweet, and slightly tangier than regular yogurt.
When a recipe uses applesauce in place of fat or eggs, this dairy product works as a great alternative. It's high in protein and other nutrients that add a satisfying undertone to baked goods. Add your yogurt in before the other liquids, in a 1:1 replacement for applesauce.
This way, you can adjust the liquid ingredients in the recipe, and then compensate for the lack of sweetness by adding honey or agave syrup.
Silken Tofu
When a recipe calls for applesauce as a substitute for fat, silken tofu may be used. If you've never heard of it, silken tofu is undrained and unpressed tofu. This block of tofu retains moisture, making it work well in recipes that require mixing and blending, similar to applesauce, such as in smoothies, puddings, dressings, and dips, and in baking muffins and cakes.
This vegan ingredient can work as a substitute for applesauce in recipes using a third cup of silken tofu for every half cup of fat called for. Keep in mind that the distinct soy taste will alter the flavor of the dish, so it will work best in chocolate-based or strongly fruity recipes. The final texture of your baked goods will end up denser and creamier, and it's also less sweet than applesauce, so you may need to increase the amount of sweetener in your recipe.