Both Asian and Western cuisines frequently use the Thai condiment generally referred to as sweet chili sauce. It upgrades the flavor of delectable deep-fried appetizers, and it's not too hard to make at home. But if you're out of the good stuff and not looking to whipping some up at home, we've got you covered with 7 sweet chili sauce substitutes you won't need to sweat over.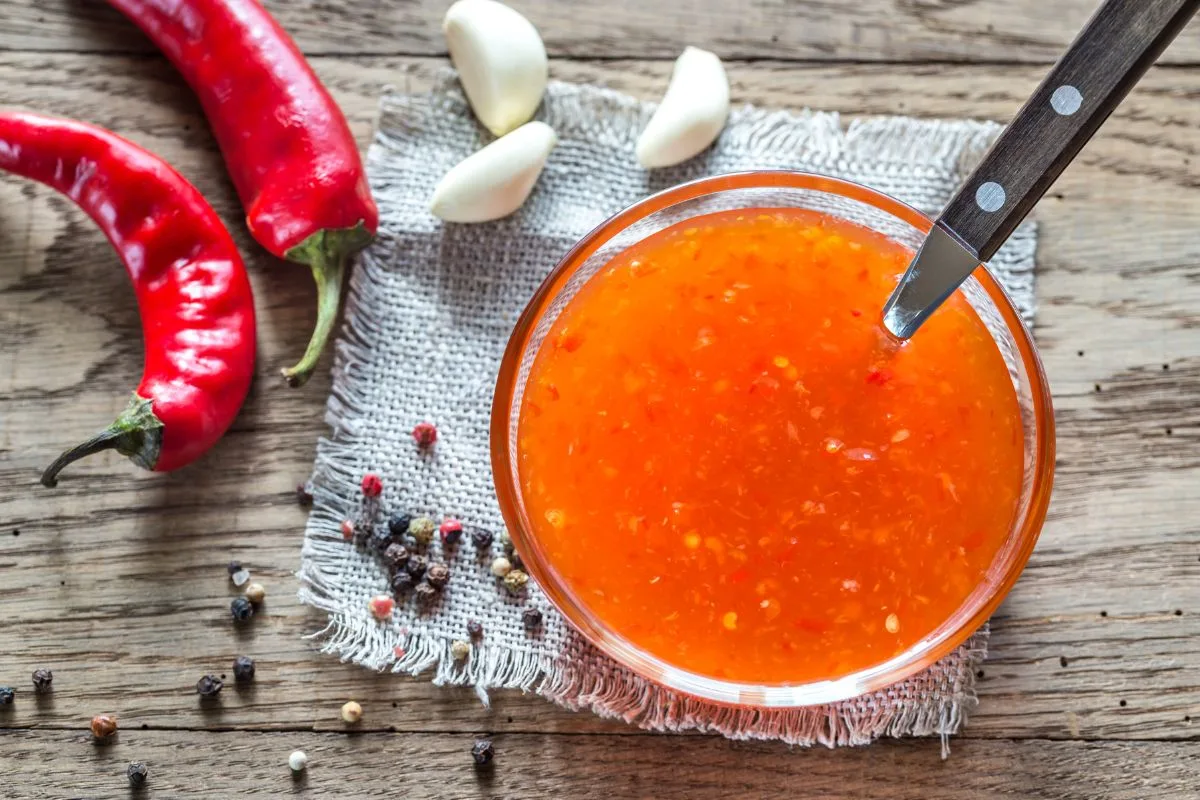 What Makes Up Sweet Chili Sauce?
The classic sweet chili sauce is made from a combination of red chili peppers, sugar, vinegar, and seasonings. Some people like to use it as a marinade for meat and vegetables, but most of the time it's used as a dipping sauce.
Some people claim that sweet chili sauce originated in Zhongshan, a city in China's Guangdong province – the same area that developed hoisin sauce. While according to others, the condiment was created by the Thai. From there, it expanded its market appeal to the entire world, eventually becoming a widely used condiment in the West.
Globally known as Thai sweet chili sauce (nam chim kai) or the catch-all Asian sweet chili sauce, this thick and syrupy condiment encompasses the whole spectrum of flavors; it's sweet, acidic, salty, savory, and spicy. It's made from a combination of sweeteners and chili peppers, much like the beloved southern condiment of pepper jelly.
To make sweet chili sauce, they simmer hot peppers, vinegar, garlic, and sweeteners in a bit of water until a thick sauce forms. The sweeteners used vary from sugar and honey to cut fruit, and the chili peppers can be fresh, dried, or ground.
The sauce's sweetness wonderfully offsets the heat from the chili peppers, making it a versatile condiment in modern cooking.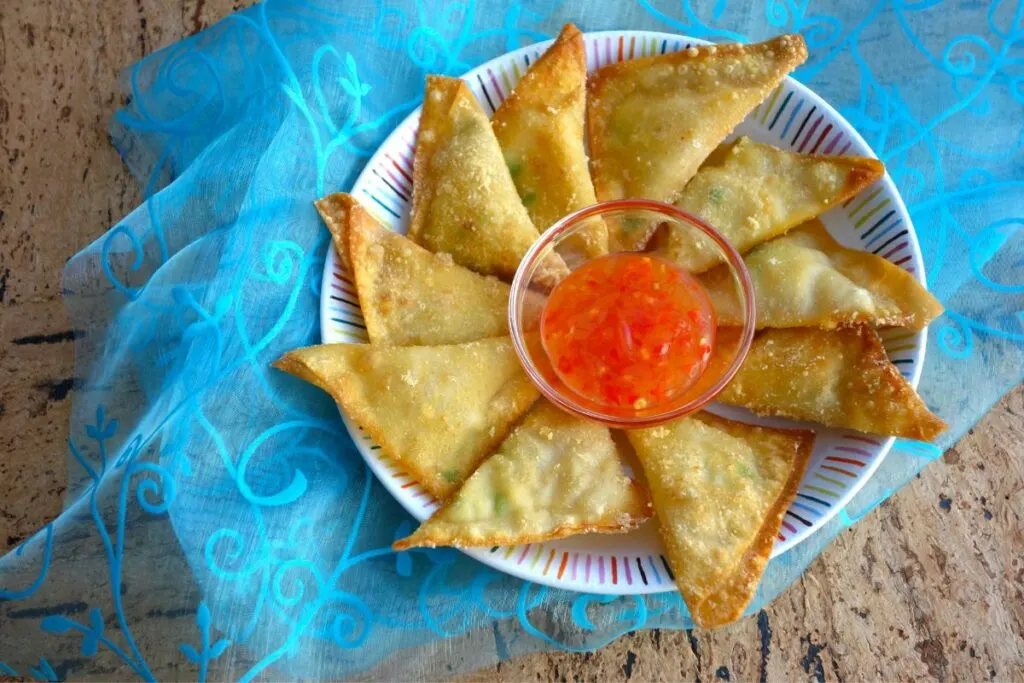 How to Use Sweet Chili Sauce
Sweet chili sauce is frequently used in Southeast Asian countries like Singapore, Vietnam, Thailand, and Malaysia. Its versatility has more recently made it popular in other countries like Australia, the United Kingdom, and the United States, especially in regions with large Asian populations. Bottled sweet chili sauces are now readily accessible and often sold in supermarkets in these parts of the world.
If you have one of these red bottles at home, you can use them as a dipping sauce for appetizers, as a marinade for meats, or as a stir-fry sauce.
All of the delicious deep-fried stuff, especially tasty Asian appetizers – Chinese fried wontons, Vietnamese spring rolls, Malaysian prawn fritters, Philippine street food like fish balls, squid balls, and kwek-kwek (orange colored batter wrapped quail eggs), Thai fish cakes are dipped in the sauce, are given a contrasting spicy, tangy zing. Additionally, the sauce can be used as a dipping sauce for a variety of common homemade dishes such as fried tofu, chicken nuggets, calamari, and prawn toast.
Take it a step further and glaze your favorite fried food with sweet chili sauce to make something extra delicious – like sticky Thai chicken wings. Since sweet chili sauces are often viscous, they adhere excellently to fried foods while simultaneously cutting the impact of the fat in the batter. With a sweet chili glaze, battered shrimp, fried tofu, chicken poppers, and even wings are made even more finger-lickingly scrumptious.
Add some sriracha aioli to each golden morsel for even more heat and some well-deserved calories. The sweetness of the sauce pairs well with the heat of the chili peppers, making it a perfect dipping for non-fried dishes, as well – try crisp lettuce wraps, rice cakes, dimsum dishes, or potstickers.
This adaptable Asian sauce can also be added toward the end of stir fries, with vegetables, and on noodles. Flawlessly enhancing fish, shrimp, pork chops, or steak, sweet chili sauce is a less expensive alternative to traditional marinades like barbecue sauce.
Use up that lonely bottle of sweet chili sauce in your pantry by making salad dressings or typical bar chow. To create a lovely Asian sweet chili vinaigrette, whisk the sauce together with olive oil and a touch of red wine vinegar. For some amazing sweet chili bar chow, drizzle it over some nuts, chips, or popcorn and bake in the oven for 10-15 minutes on a low temp.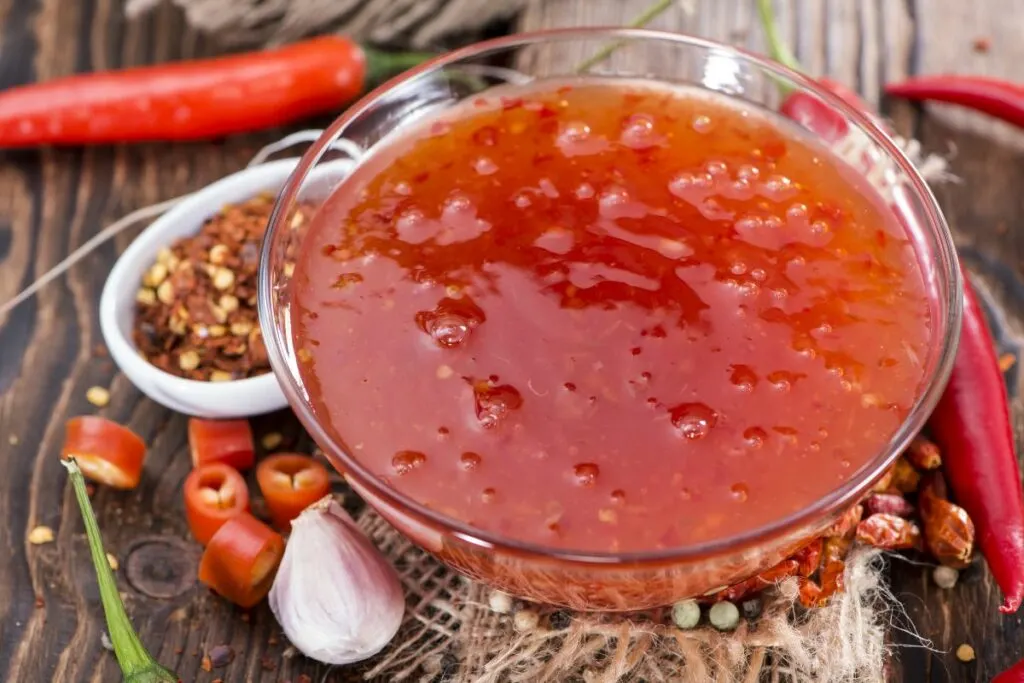 How to Alter Sweet Chili Sauce
Sweet chili sauce can be used in a variety of dishes and adapted for your spice tolerance. It's also a good source of antioxidants, manganese, and vitamins A and C. It's definitely a sauce worth exploring in the kitchen.
Not all bottled sauces will suit your specific preference levels for sweet, spicy, and tangy. So you can also make sweet chili sauce yourself and save money, a trip to the grocery store, and perhaps even some calories. Most people won't have regular use for it, so we suggest just making your own.
When making your own sauce, you can have a say in the quality of the ingredients, overall taste and consistency, and quantity you make. Here are some tips for a DIY sweet chili sauce:
Use a mix of low-heat chili peppers if you're not one for very spicy food. You can also add fresh tomatoes, tomato sauce, tomato puree, or ketchup to reduce the heat if you overdo it.
Some bottled sweet chili sauce lacks heat. You can adjust the heat to your desired strength by using even more chili peppers.
Some bottled brands lack flavor. If you make it your own you can add umami flavors by using fish sauce or soy sauce instead of the typical salt.
To achieve a brighter red color, deseed and chop up even more chilies. You can use gochujang chili powder to add heat and color at the same time, or use paprika if you just want to add color.
Once you've created your perfect sweet chili sauce, keep it in the fridge for up to a week. If there's nothing to pair it with immediately, freeze it for up to 2 months. The sauce will congeal so you'll need to heat it up in a pan after thawing.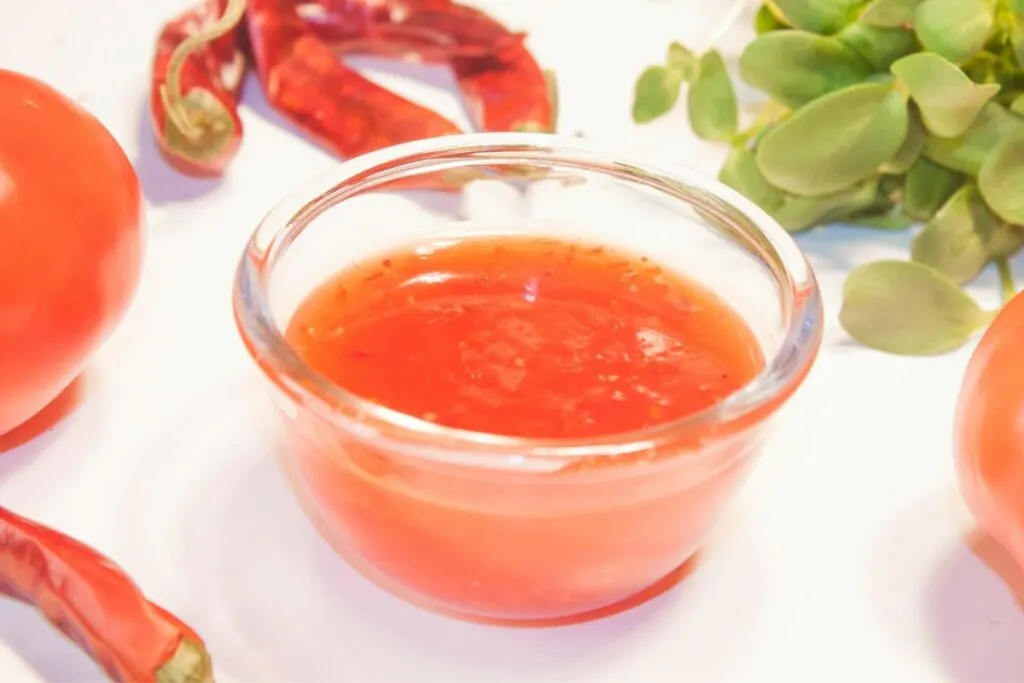 7 Best Chili Garlic Sauce Substitutes
DIY Sweet Chili Sauce
Explore a homemade sweet chili sauce if you're craving that flawless balance of sweet, salty, and spicy in your cooking. Gather vinegar, ginger, garlic, red chili, and a sweetener, and then just boil all the ingredients together in a saucepan. Let it cool for 2-3 hours, then store in the fridge for up to a week.
Making it yourself at home is cheap, quick, and easy, and you'll get rid of the additives and nasty ingredients in the bottled variety.
Cocktail Sauce + Honey
Cocktail sauce and sweet chili sauce have a similar zesty tang and heat. Choose a spicier sauce or add in extra cayenne powder to reach your desired heat level. You can use it as a direct substitute for sweet chili sauce with just a little bit of honey to increase the sweetness.
Chili Garlic Sauce + Honey
We absolutely love the chunky, spicy, umami kick of this popular Asian sauce. Chili garlic sauce is great on its own, but it lacks the sweetness that you may be looking for. If you're stocking it in your pantry (as you should be), then all you need is to add honey to it to replace sweet chili sauce.
Sambal + Vinegar
This spicy Indonesian chili paste packs a flavor punch as a sauce on its own. To tweak it as a sweet chili sauce substitute, mix it with white vinegar. Sambal already contains sugar but if you feel like it still needs some, then add honey or your preferred sugar substitute.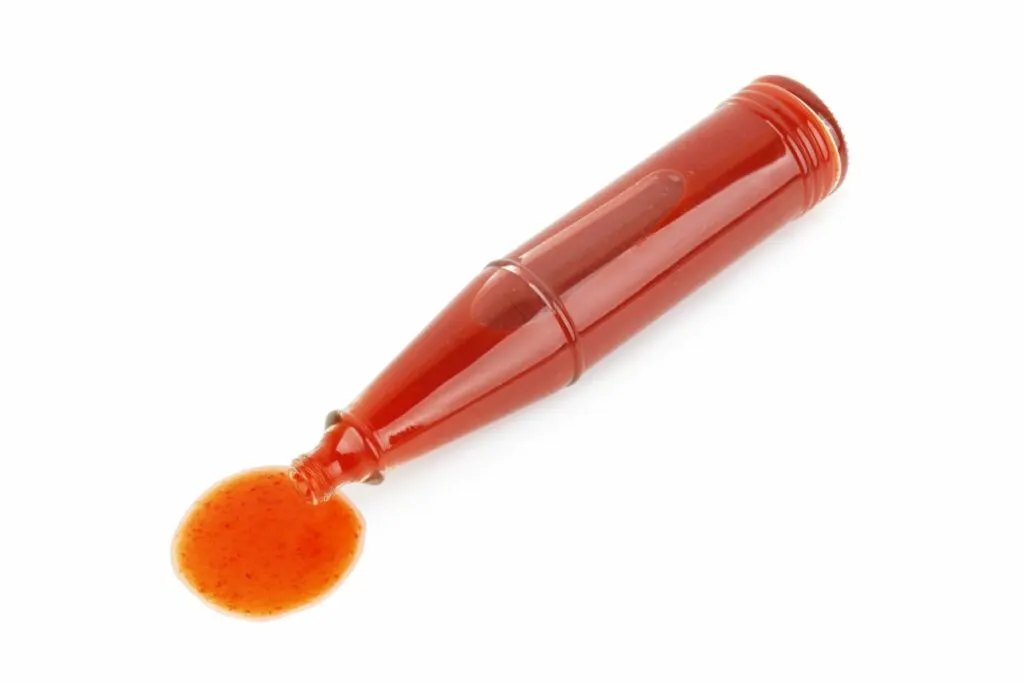 Sweet and Sour Sauce + Red Chili Flakes
Sweet and sour sauce is well-known in Asian cuisine. Much like sweet chili sauce, it's tangy and sweet, but is usually orange or red and has no visible chili. Sweet chili sauce, on the other hand, is sweet, sour, and has a spicy kick to it due to the chili flakes in it. To substitute, simply add in red chili flakes to sweet and sour sauce until you reach your desired level of spiciness.
Hot Sauce + Honey
The easiest way to substitute a sweet chili sauce is with a hot sauce you already love, plus a sweetener. If you like spicy food you'll likely already have a bottle of hot sauce in your cupboard. Just add a bit of your sweetener of choice— we suggest using honey, as it gives the sauce a nice thick consistency— and stir well to create an easy-peasy sweet chili sauce substitute.
A Healthy Homemade Sweet Chili Sauce
Still looking for a healthier alternative for sweet chili sauce? To start, we do recommend using an air fryer for lighter versions of your favorite fried appetizers. Then, make your own healthy sweet chili sauce at home with ingredients like apple cider vinegar, coconut aminos, and xanthan gum added to chili peppers, garlic and ginger. Making these substitutions will make your sweet chili sauce Keto-friendly, low-carb and gluten-free.